Once more, we are glad to invite you to visit our annual Workshop Fair in Nuremberg, taking place from 17 until 20 March 2011. Workshops for adapted work present their products and services and invite to exchange information and expert knowledge. In 2010, 17,000 visitors came to see the wide range of products and services presented by 250 exhibitors. Figures that the hosts NürnbergMesse and BAG WfbM expect to reach again in 2011.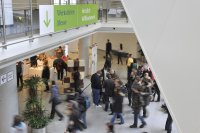 © Peter Roggenthin
Special European guest country in 2011 will be Croatia. Nine workshops for adapted work from different locations in the country will present their concepts and products to a large number of visitors. The different workshops for adapted work are also interested in establishing new business relationships.
For this occasion, BAG WfbM will cooperate closely with OSVIT, the umbrella association representing round 80 workshops for adapted work in Croatia. The aim of this association is to promote the vocational training, the professional rehabilitation and the employment of persons with disabilities in Croatia. As this country is a Member State Candidate for the European Union, the association follows further important objectives, such as:
Logo of OSVIT

political advocacy and active support of the legislative bodies in the further development of Croatian law for disabled people;
publicity to raise awareness for the concerns of disabled people;
conducting conferences and seminars on professional rehabilitation and employment;
publications, anthologies and handbooks for professional rehabilitation and employment of disabled people;
collaboration with domestic and foreign organizations/associations that deal with issues of vocational rehabilitation and employment of disabled people;
organization of work offers and sports activities for people with disabilities.
The cooperation between BAG WfbM and OSVIT is also supported by the Regional Association of Workshops for Adapted Work of the Federal State of Berlin (LAG WfbM Berlin).
Detailed information on the Workshop Fair 2011 can be found at www.werkstaettenmesse.de