On Monday, 20 September 2010, the German Soccer Championship of Workshops for Adapted Work was officially opened with a ceremony in the City Hall of Duisburg. Among the speakers were Wolfgang Watzke, Managing Director of the Sepp Herberger-Foundation, Manfred Osenger, mayor of the city of Duisburg, as well as Dr. Klaus Kinkel, former German Federal Minister for Foreign Affairs. In his speech, Dr. Kinkel emphasized the importance of sport for persons with disabilities. According to Dr. Kinkel, a society can be best described by the way it deals with people at its margins. "This is also one of the reasons why this German Football Championship is such an important event", he said. In his opinion, the event stands for integration and the reciprocal respect of human beings.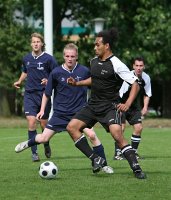 © Carsten Kobow
Surprise guest

The surprise guest at the opening ceremony was Otto Rehhagel. The former Greek national coach stressed out how important social engagement was to him. He advised the players to assure a respectful and fair championship, as success in life could only be based upon receiving support from each other. According to Rehhagel, cohesion and teamwork have also been the elements that made him successful. Otto Rehhagel and Dr. Klaus Kinkel carried out the drawing of the groups.
Press Conference

Prior to the opening ceremony, the press conference took place. There, Martin Berg, Vice Chairman of BAG WfbM, underlined the importance of football for the workshops for adapted work: "The importance of football for the workshops work is eminent. Our mission is to integrate people with disabilities into society and football can play an important role in achieving this. If we succeed to cooperate even more closely with sports clubs, so that disabled people can attend these clubs, it means we have come closer to our aim of integrating persons with disabilities successfully into society." Martin Berg was present at the events in Duisburg during all four tournament days.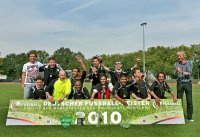 © Carsten Kobow
Frankfurt won the Championship

On 23 September 2010, after four days of competition, the players of the Rehabilitation Workshop Oberrad in Frankfurt on the Main celebrated their victory. 16 teams had come to Duisburg to compete for the German Football Championship. 48 games were played, each team had six matches. For the first time this year, a real final could be played, as the tournament mode had been changed. All 16 teams received a trophy, while the German Champions for the first time received the new Championship Trophy.
Andreas Retting, Manager of football club FC Augsburg and Tobias Willi, Sports Director of football club MSV Duisburg, joined the awarding ceremony.
Fair Play-Award

The team of the Workshop Stralsund won the special Fair Play-Award. The trophy was handed out by Martin Berg. All results can be found at
www.fussball-wfbm.de
.